We tested ChatBlink for you and tell you exactly what you can find on this free online chat website. Find out how good ChatBlink is and what the alternatives are.
What is ChatBlink?
It's a minimalistic and easy to use free online chat where you can talk to strangers, create a profile if you want or do some random text chats with strangers.
They say you can meet new friends or use it as a dating site. They may be right about that, but you shouldn't rely on finding long-term friends or relationships there. Make more use of this page to spend some time when you're bored.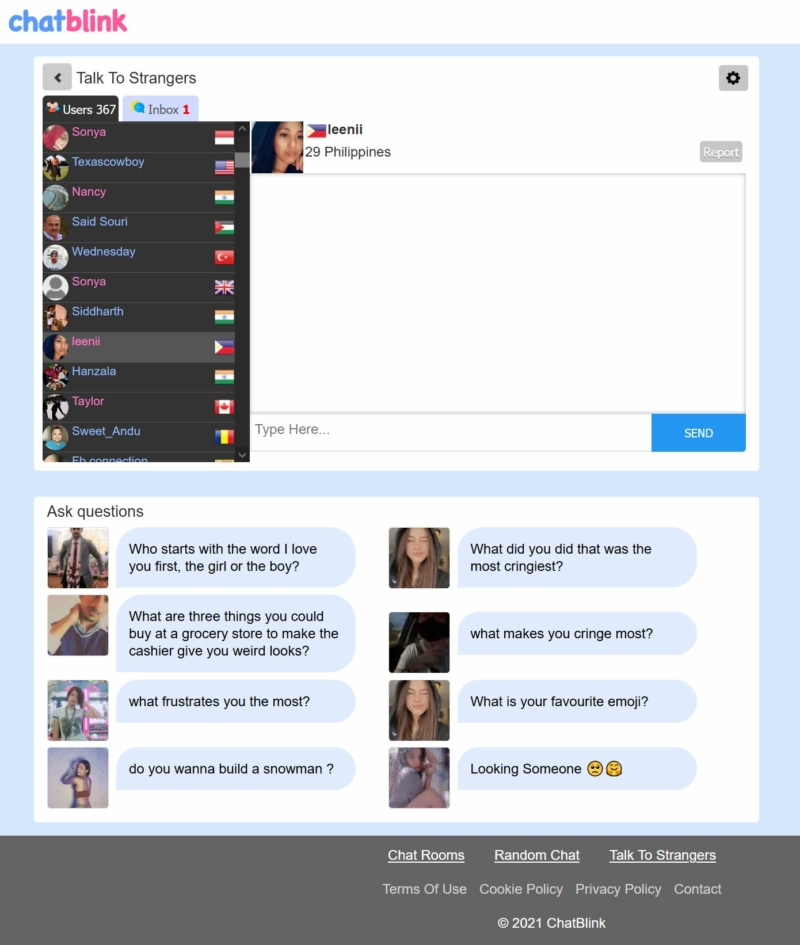 How good is ChatBlink really?
At the moment of the test were ten Chatrooms (Just Chat, India room, Friendly chat, Philippines Chat, Singles Chat, UK Chat, Adult Only, Roleplay, USA Chat, Talk to Stranger) available which could be entered without login or registration. With an overall total of 350 online users, we had expected more, but the rooms were clean, spam-free, ad-free and chatting was easy.
Features
Free and easy to use
Hundreds of users online
No registration or login required
You can create a Profile
Spam-Free and no ads
Disadvantages
No Picture sharing
No Video-Chat
No encryption and security risks
No moderation
Personal profiles
Aside from the simple pastime, it is always better to create a personal profile, upload pictures of yourself and tell something about yourself. Verified users are not only contacted more often, but you can be more certain that you will find a real user behind the profile.
Which countries are represented?
This site is very popular in the following countries: India, Philippines, Thailand, United States, Malaysia, Sri Lanka but you will also find girls and boys from other English speaking countries.
TOP 5 Alternatives
If you haven't found what you were looking for, you can try these chat websites. You can also leave your personal favourite in the comments below.